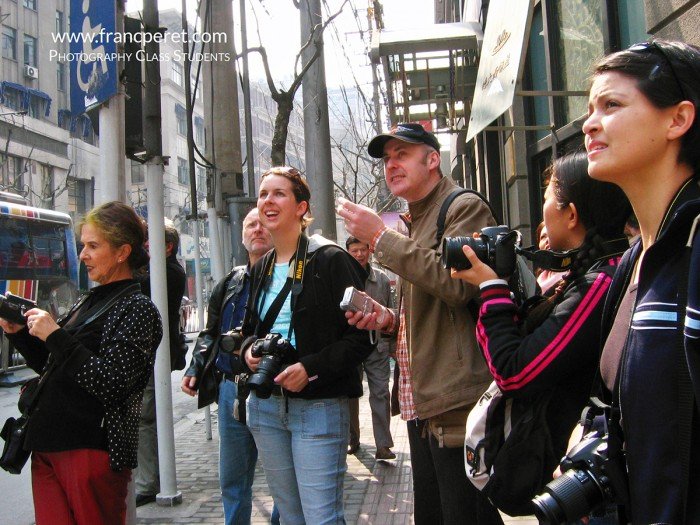 From now on, I am going to collect and add to this post my Photography Class students group pictures, starting from the very early Class I ran in Shanghai in 2005, 10 years ago! Great memories to share with all participants!
By Franc Peret
In 10 years, I had 750 students in Photography, Advanced Photography and Film making class.
It is an amazing number and I can hardly trust it myself, but my mailing list proved it to me.
Why being so surprised myself?
I think the pictures I am posting here are going to give you part of the reason.
I am having so much fun to share with great attractive people dedicated to my teaching!
I am never going to be tired of teaching and it is such a joy for me that I do not count the time, the effort or the number of students I am teaching to.
My students are coming from different countries (40 different origins so far!), they have also diverse ages, occupations, social ranks, motivations and characters, but they all have something in common: the excitement of learning something new from me.
And I love that!
Lets come back to the pictures.
To start in chronology order, I had to dig deep into my record to get those pictures and few are missing unfortunately, but day after day, I am going to add more pictures of the different classes until I reach the present one. Stay tuned!
Franc Peret is teaching Essential Photography Classes, Advanced Photography Workshop and Film Making Classes in Shanghai
Here is a couple of my single class shot in March 2006, in Shanghai Jiao Tong University. ELC started its teaching activity there. My students were Kathryn Ferb, Tom Shoesmith, Matthew Worrall, Cath Barnes, Sarah Ghan Stephanie Wong, Anne Yu, Karin Wiedenhoefer, Kate Macleod, Louise King and Shannon Ellis.
Thomas Knop, Lina Zhao, Silke Niestroj, Patricia Portillo Suarez and Jeanine Jordaan.