Travel
1997 Beijing Lifting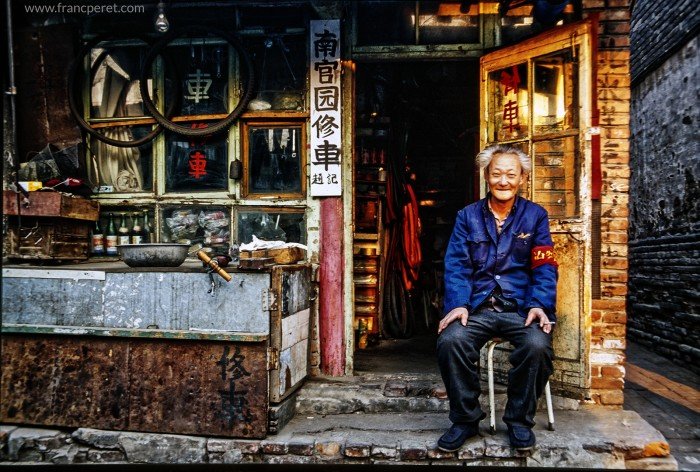 In 1997, being in Beijing, I took advantage of my journalistic eye to catch some shots in sensitive areas, where people were kicked out from their traditional beloved houses for the good of modern profit.
Photos Franc Péret (Shot on slides, Fuji Provia100)
In 1997, I was in Mainland China for the first time and I was there with a mission.
As a western journalist able to understand Chinese (which was rare at that time), I was sent in Beijing a couple of weeks by a European Press group willing to develop a car magazine in mainland China.
I had two jobs in one: preparing a series of article on car reality (industry, regulation and drivers habit) and doing a market study regarding magazine creation, production and distribution in Mainland China.
Looking for magazines
Just for the anecdote, I discovered that magazine were sold in the street, not in bookstore chains and most of successful publication were available by subscription on a list in post office.
For those who knows China a bit, no need to say that under table money was surely necessary to get a spot there.
Anyway, I took benefit of my first stay there to visit and shoot as much as I could. I can only show here my private work.
I was amazed by the "out of time" feel of the old houses surrounding the forbidden city and fall in love for it. It was like historical movie background I had seen (such as Farewell my concubine).
Skyscrapers as goldmine
Don't search for it now, they were all destroyed starting from 1995 to get replaced by office building and other gold mine dedicated to profit.
When people are still speaking of Beijing as a culture center of China, it make me laugh with sorrow.
Might be true for some individual, but certainly not for the architecture. Culture has no weight in front of business, despite 4000 years of history.
Gold is not pouring out of old stones. it does from real estate speculation.
Chinese pride is elsewhere, in what money can buy. This opportunism treats life like a prostitute.
No need educational background and culture enlightenment to get her and enjoy it. Money is All.
The ghost of Architectural Heritage 
The few "old" houses you can find close to the forbidden city are all fake, made in 2007 from concrete and covered by tiles which look like bricks, for a clean preparation of the Olympic games. Another gold mine (not speaking about the medal here).
Back in 1997, I was invited by several people to visit their house, they lived in for several generation.
Before they got destroyed, they wanted to share their anger, as official were forcing them to get relocated in far suburb area.
And worst of it, to avoid nostalgia from this population, they were splitting original neighbors in different suburb to not let them keep tight connection.
Global trouble
I had stop there my investigation as police got curious about me and I didn't want to bring more trouble to those friendly local people, victim of a newly adopted capitalism. Such things are also happening in Western democracies, as bad.
As far as huge corporate profit is concerned, individual people lifestyle and happiness has no value anywhere in the world.
So far, a great part of Beijing architectural heritage had been destroyed for the good of a globalized business model.
Franc Peret is teaching Essential Photography Classes, Advanced Photography Workshop and Film Making Classes in Shanghai