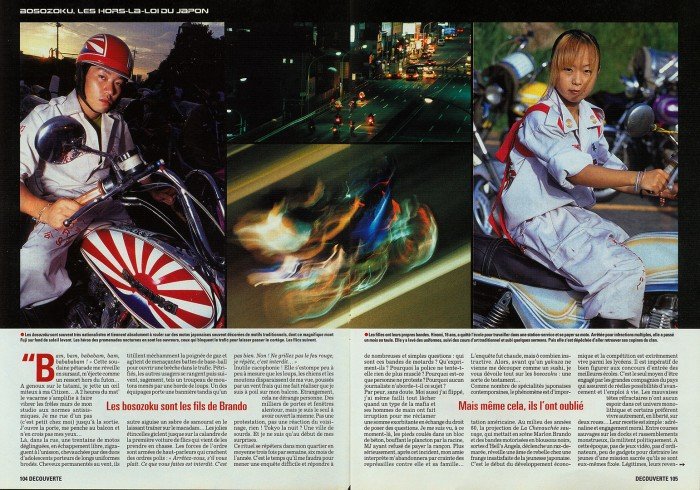 I was the unique journalist who had done a full report about Japanese Bosozoku and this was rewarded by a great number of publications since 15 years as this subject is still on sell by Corbis agency.
By Franc Péret (Shot on Film: Fuji Provia 100 slides)
All this story had been shot on slides which was a difficult task as I had to shoot quick and many pictures had to be taken at night or indoor, sometime without flash.
I am not showing the original pictures on this post, as they are still on sale by Corbis Photo Agency, but instead you can see here, in this gallery, some of the publication I got at that time: Moto Journal (France), Das Motorrad (Germany) and MCN (England). Interesting to see the different layout and pictures selection.
MCN gets the worst rendition as it is printed on a bad quality paper (newspaper format).
Why am I the only one on earth who had done this topic? Because of the Japanese mafia involved in this activity and the real danger to get too deep or too close with it. Being a professional journalist and photographer is also to be able to set up such story and to get out of it, in one piece.
Franc Peret is teaching Essential Photography Classes, Advanced Photography Workshop and Film Making Classes in Shanghai
Moto Journal Publication:

Das Motorrad Publication:
Franc Peret is teaching Essential Photography Classes, Advanced Photography Workshop and Film Making Classes in Shanghai
MCN Publication
Franc Peret is teaching Essential Photography Classes, Advanced Photography Workshop and Film Making Classes in Shanghai